SAPPHIRE BUFFALO  $10.50m2
Sapphire Turf supplied Gold Coast Gravel Supplies is the best available Buffalo grass in Australia for shade. Sapphire Buffalo Grass has rapid growth across the ground, allowing it to cope well with high traffic situations. Sapphire is drought tolerant grass that also holds its green colour well during the winter months.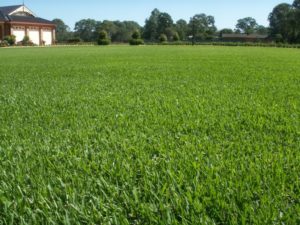 High performance, soft leaf buffalo
Minimal thatching – unlike other buffalo varieties
Very hard wearing
Shade tolerant
Different to other buffalo grass's as it has a finer texture
Maintains a great colour through winter
Thrives in hot/humid desert areas
Recovers well from injury
Best used in residential/commercial areas and parks
Deep rooted system makes it very drought tolerant
Very soft to touch compared to other buffalo varieties
Outcompetes weeds very well
Low allergenic- 39% lower seed head score compared to other varieties
WINTERGREEN COUCH $5.50m2
Wintergreen by Gold Coast Gravel Supplies is considered the best low-maintenance all-round turf in the market. Tolerating warm weather and filtered sunlight, Wintergreen is ideal for most domestic and sport applications. The leaf has a fine to medium texture and has excellent drought and wear tolerance.
Fine leaf grass with a medium green colour
One of the most drought tolerant grasses available
Low maintenance year round
Low cost
Small, fine leaf
Grows best in full sun
Tolerant to low mowing
Extremely hard wearing due to its deep root system
Good salt tolerance, great for coastal areas
Minimal watering and mowing in winter as it goes dormant in the colder months
 Empire Zoysia $10.50
Empire Zoysia supplied by Gold Coast Gravel Supplies is a fine leafed grass which is very soft to touch. Empire has excellent wear tolerance and thrives year round in Queensland. Empire generally requires less watering and has been proven to need one third of the mowing compared to other varieties.